Disappointing Results, Disappointing Expectations
I continue to be surprised by the lack of control that Bed Bath & Beyond's (BBBY) management has on the business. I have read the results and the earnings call transcript for Q4 and the key message is that nothing much is changing if we exclude another iteration of the management's long-term optimism that has never translated into actual improvements so far.
Once we exclude the 5.2% increase in sales driven by new store openings, there was not one metric moving in the right direction. Comps continued to decline, although not sharply (-0.60%), despite the clear and strong signs of improvements in the retail space in the United States, where retailers have been experiencing a solid rebound in the past few quarters and reported record sales during the holiday season.
The 0.60% decline in comps may not look so bad if we ignored the fact that store comps posted a mid-single-digit decline against strong growth in the e-commerce channel. The secular shift from traditional stores to e-commerce is a secular headwind for all the retailers (the majority of third-party retailers) that report higher margins in their store channel, such as Bed Bath & Beyond. Unfortunately, that's not the only margin-dilutive headwind Bed Bath & Beyond is currently facing and probably not even the strongest one. Before going more in depth, let's keep in mind that BB&B reported a 210bps decline in gross margin to 35.9% of sales and a 290bps contraction in adjusted EBIT margin to 9.3%, basically confirming the downward trend started several years ago: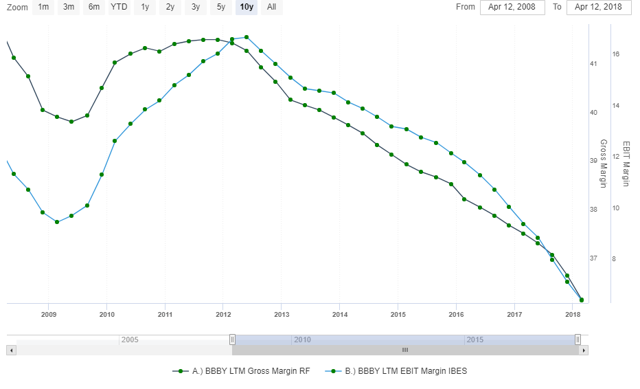 >
Source: Sentieo.com
The management's guidance didn't indicate any potential turnaround in the near future. In 2018, the management expects to report a moderate growth in comps but forecasts only a "moderation" in the declines in operating profit and net earnings per diluted share, expecting a turning point for EPS growth only in 2020. In other words, while same-store-sales may become positive this year, we still have at least two years of margin contraction ahead and considering the lack of control they seem to have over operations, even that slightly optimistic view should be taken with a grain of salt.
Margin Dilution and Structural Issues
I think it's necessary to give a look at all the margin-dilutive forces that are affecting the business at the moment if we want to understand BB&B's faith, which largely depends on whether the company will be able to stop the current downtrend in profitability. These margin-dilutive forces are both a result of company-specific issues and industry headwinds.
Bed Bath & Beyond's excessive reliance on coupons has been damaging margins for years. In Q4's earnings call, the management said:

>
Source: Q4 earnings call
I can't even count how many times the increase in coupon expense has been cited by the management to justify the declining profitability. Coupons are a key source of customer retention and an important tool to drive foot traffic. For this reason, the management doesn't seem to be willing to decrease its dependence on them. Actually, the management seems to be oriented in the opposite direction, confirming its intention to expand its Beyond Plus program and evolve its benefits, which already include free shipping and a 20% standard discount on purchases.

>
Source: Q4 earnings call
Despite the strong commitment to growing the program and the cost benefits for its customers, the management mentioned to need further tests and gain better insight into the lifetime value of members, which confirms we are basically moving in an unexplored territory, where the potential margin dilution is more clear than the potential benefits.
In addition to this passion (or need?) for promotions, a series of underlying industry trends is also generating significant margin pressures. The most important one is the secular growth of e-commerce, which acts as a headwind in two main forms:
Through the dilutive effect of the company's own e-commerce channel, which carries higher variable costs (shipping, fulfillment, returns), compressing profitability, and limiting operating leverage.
Because it puts traditional retailers in direct competition with players such as Amazon (NASDAQ:AMZN), which have been expanding their market share fast thanks to the aggressive pricing model. Competing with these players means trying to offer more services or equal (or lower) prices, with a negative effect on profitability in both cases.
Moreover, the retail space in the U.S. is affected by a clear problem of overcapacity, as the country is estimated to have 5-6x the retail space per capita of France, Germany, or Japan. This structural overcapacity will likely continue to generate periods of higher promotional activity, which will further compress BB&B's profitability.
While these headwinds are clear, the potential sources of stabilization are less obvious. The management mentioned some projects but without particularly clear indications about the size and timing of the effects. For example, the management mentioned some plans to expand the penetration of BB&B's proprietary products at the expense of third-party products, which should benefit profitability as proprietary products carry higher gross margins. In any case, the management is talking about projects in their early stages and didn't give us many details about the potential effects of this move.

>
Source: Q4 earnings call
These moves seem to be late, not aggressive enough, and not likely to make much difference in any case.
Conclusion
Bed Bath & Beyond's fourth quarter confirmed once again the strong margin pressures the business is facing and the complete lack of solutions on that front, with the management confirming the business' commitment to providing value through an increasing level of promotions and benefits for its customers. With this strategic stance on one side and the margin-dilutive forces of e-commerce growth on the other, Bed Bath & Beyond will probably continue to face profit dilution for the foreseeable future. In this context, the expectation of a stabilization in the bottom line by 2020 is too far and too uncertain to be considered as a bullish factor for BBBY.
Thanks for taking the time to read the article. If you liked it, click on the follow button at the top of the page. You will get my articles as soon as they are published. I am available to further discuss the topics of this article in the comments section. If you are interested in having access to my best long and short ideas in the consumer and tech areas or want to know when BBBY will be a strong buy or short, please consider joining >Consumer Alpha. A 2-week free trial is currently available.
Disclosure: I/we have no positions in any stocks mentioned, and no plans to initiate any positions within the next 72 hours.
I wrote this article myself, and it expresses my own opinions. I am not receiving compensation for it (other than from Seeking Alpha). I have no business relationship with any company whose stock is mentioned in this article.
Source : https://seekingalpha.com/article/4162748-bed-bath-and-beyond-still-facing-strong-margin-pressures