When the French-born and London-based jeweller Raphaele Canot decided to move on from Notting Hill in search of more space for her family, her one concern was losing the lateral space of her former flat. But what she has created, along with her architect husband Christophe Carpente, in a terraced house in nearby Brook Green, is a free-flowing family home that combines the best of both worlds with clever design tricks.
One of the most effective is a simple entrance hall that has now been commandeered by Canot's three children: Ruby, 12, Leo, 10 and Zef, eight. "Initially I put a table here and my daughter said something like: 'It prevents us from living.' And I thought, 'She's totally right,'" says Canot. "I think it's important to have an area where they are free with nothing in their way, even if it's not massive. And this space has now become their space."
The couple made the entrance hall flow by using the same bleached oak on the hallway cabinetry and glass partition walls and the only decoration is an artwork in fabric and paper by American artist George Blackwell. On one side of the hall is a sleek, light-filled kitchen, while on the other is an expansive living room, but the glass room dividers provide an uninterrupted view from one end of the house right through to the garden at the other end.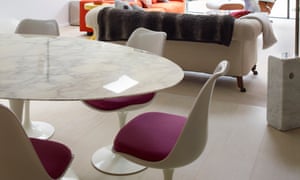 "We live with our kids, hanging around as a family – they are not off in their rooms. I can be in the kitchen and watch them, they can do their homework in the living room and they can see me," she explains. "But it's quite handy to have these flexible partitions so you can close off rooms depending on daily life."
The incredible light also helps to make the house feel bigger and airier than most period houses with skylights flood the space, while upstairs little angled windows bring additional light alongside traditional sashes. "The structural work had been done but the space was very cold and dry. But Christophe saw the potential; creating a sense of space and bringing light in is what he's really good at and, being an architect and Swiss, he has this sense of essentials." The couple also softened the flooring with lots of natural materials – wide oak floorboards are contrasted with pale stone thresholds between the rooms – a playful touch that actually adds lots of character.
Canot originally moved to London in 2004 to work for De Beers, after starting her design career at Cartier. Four years ago she launched under her own name and her jewellery, like her house, combines classical principles with whimsical flourishes – her signature collection bringing together diamonds and dazzling scarlet enamel lips. And it's that sense of wit that pervades her home, too.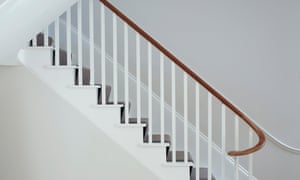 At every turn there are colourful, quirky pieces (another reason to keep the backdrop as clean and light as possible) and one of the main motivations for moving was the chance to start living with much-loved pieces of furniture and art that had been left in storage in Paris for 10 years. "This is madness, right?" says Canot of a decade of storage bills. "It makes no economic sense but it would have broken my heart to sell them."
>
I think my children learned early on that these things were precious to me
These colourful pieces are now the punctuation points throughout her new home. A giant cactus, which formerly stood in the hall as a coat hanger, provides a dazzling green link to outdoors. An Yves Klein table filled with the artist's signature Klein blue pigment takes centre-stage in the living room ("It brings so much life and light") while a large oval Saarinen tulip table and chairs at the other end of the room has been given a twist with vivid fuchsia cushions. Above it hangs a piece by the French artist Alain Declercq of a Lebanese cityscape depicted with rifle shots on black melamine.
The same approach continues in the couple's bedroom where one almost black wall and very pale duck egg curtains provide a neutral backdrop for a dazzling scarlet lips sofa, a vibrant Missoni Fleury rug and an angular red chair.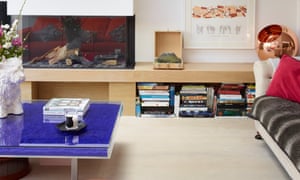 Canot, who grew up in Paris, where her interior designer father would take her to flea markets every other weekend, is an avid collector – of art, furniture, ephemera. Her eldest son's bedroom has been one of the main benefactors: his lime-green shelving units, a desk and leather and metal chairs were among the original 1977 furnishings of the Beaubourg library in Paris. Canot bought them at auction many years ago when the library was being refurbished.
"In the beginning he said, 'Oh but this is old.' He didn't get it and I had to say, 'Yes it's old and they have scratches but they come from this library in Paris and I will take you there one day,'" says Canot. "He got into the story and he loves them now, but you have to explain because otherwise it's just a piece of metal furniture."
One of Canot's favourite sources of inspiration are the curiosity cabinets at Dover Street Market (the Haymarket shop was also the first to stock her jewellery) and it's a concept that has filtered into her living room, where one wall is covered in shelves filled with little worlds featuring books, artefacts and other treasures – from vintage robots to rocks – that she has collected for decades.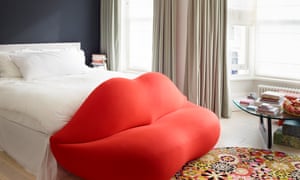 "They are really mind maps of travelling, stories and family. Christophe and I share this habit of bringing things back. Daily life is so busy with work and life and kids so when we travel we tend to have more time and space in our minds to browse," she explains. "And the shelves are really about bringing together objects that are very meaningful to me and my family and my husband, and that make sense altogether. My kids do the same thing now but we are very strict – it needs to be really nice."
There's an American section with Native American Kachina dolls, ET figures and a hunk of beautiful fossilised redwood from a gallery in Paris that specialises in fossils, and a natural history section with books on mountains and rocks (one of her favourite shops for an amazing selection of natural rocks is Venusrox in Notting Hill). Each themed area is surrounded by related books like a reference library around a living museum. Books are another passion and they are crammed beneath benches and tables, filling any vacant space.
Just beneath the shelves stands a delicate freestanding wire fox that was bought at Themes & Variations in Westbourne Grove 12 years ago and which had somehow not been re-formed by inquisitive little hands. It's a lively and inspiring space for young minds, although living with small children and so much art at close quarters must be a challenge. "I think they learned early on that these things were precious to me," says Canot, who has clearly filled her children with her own awe for art and artefacts. "But actually they were always quite good. Even when they were small."
Source : https://www.theguardian.com/lifeandstyle/2018/apr/15/doing-the-bright-thing-in-our-terraced-family-home