In the world heritage wilderness of Tasmania, next to Lake St Clair, this 1930s hydroelectricity station is a gem. The designers have created rugged simplicity and unrefined comfort – even the weather-beaten, lichen-dabbled concrete exterior is faithful to its first life. Triple-height wraparound glass ensures high-definition views over the national parkland. Exposed pipes, rough oak cladding and industrial-style hanging lights give this 12-room sanctuary modern gravitas. The best views are from the Pumphouse bedrooms with floor-to-ceiling windows looking out on the lake.
• Doubles from £170, >pumphousepoint.com.au
1 Hotel Brooklyn Bridge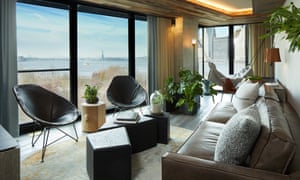 Figs and ferns make up the 25ft living wall in the lobby of this urban hub where nature is celebrated. Building materials were mostly repurposed and the electricity supply is entirely wind-powered – impressive for a 10-storey new-build right by Pier 1 and Brooklyn Bridge Park. All the views are a knockout – either of the bridge or the Manhattan skyline. Reclaimed woods, rough leathers, hand-loomed textiles, all responsibly sourced, create an environment as tactile as it is photogenic. When you can tear yourself away from the views, the attention to eco-materials is impressive, too. Mattresses are organic cotton-clad and you can even find lampshades grown from mushroom mycelium – Brooklyn-based Danielle Trofe's fungi lighting is as kind to the eyes as it is to the environment.
• Double rooms from £235, >1hotels.com/brooklyn-bridge
Eden Locke, Edinburgh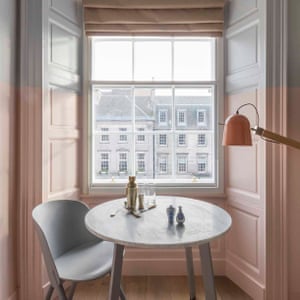 New York-based interior designers Grzywinski+Pons know all about creating scenes that beg to be Instagrammed – surely the mark of a successful modern design hotel? Each of the 72 studios in this aparthotel (bigger than a hotel room but smaller than most serviced apartments) has marble table-tops, oak floors and handmade tiles. Throughout the building and in the rooms, they have devised a palette of warm materials and textures, powdery tones and soft lighting which has turned up the volume on that soul-stirring Scottish natural light.
• Double rooms from £75, lockeliving.com/eden-locke
The Warehouse, Singapore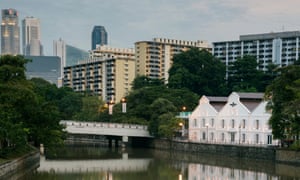 This 19th-century riverside spice warehouse has been converted into something contemporary that still stays true to its industrial past. The 37-room hotel's previous working life on Robertson Quay is elegantly referenced with an overhead installation of black cogs. The front desk is backdropped by an "Objects of Vice" retail installation featuring items that the original dailos (warehouse bosses) would have used, such as lighters, ashtrays and flasks, while brickwork walls, louvre windows and subtle cornicing hark back to the time when they were in charge. The Lobby Bar with exotic house-made infusions, Po Restaurant and an elevated pink-tiled infinity pool all emphasise its new dedication to a 21st-century laid-back-luxury lifestyle.
• Double rooms from £160, >thewarehousehotel.com
Brody House, Budapest
With the river Danube bisecting the city, Pest was always the less salubrious side compared with ever-popular Buda. But now it's a thriving creative quarter. The hotel, in a 19th-century townhouse on Pest's Brody Street, started with a few friends and artists hanging out in the ground-floor apartment. Now this boutique bolthole has a stylish bar and a members club, and eccentric art installations cover its crumbly walls – see Australian sculptor Bo Droga's intestines-like pipe installation and a "chairndelier" hanging light made from a wooden chair. Instead of wallpaper, the walls are covered in antique music scores and handwritten letters, while paint-stripped reclaimed doors have been graffitied with gusto.
• Double rooms from £85, >brody.land
Artist Residence, London SW1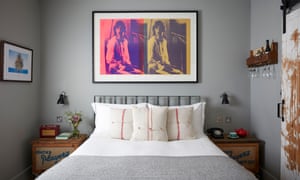 Hidden away in genteel Pimlico, this 10-room boutique hotel is full of upcycled furniture, unexpected curios and the odd freestanding cast-iron bathtub. The husband-and-wife owners, Justin Salisbury and Charlotte Newey, reworked a former pub designed by Thomas Cubitt and decked it out in artworks – pieces by Miles Aldridge, Tommy Clarke and Harland Miller hang from the walls. Their chain of arty hotels are more like creative spaces – the first two were in Brighton and Penzance, and they have a new farmhouse in Oxford. Look out for the next opening in Bristol later this year.
• Double rooms from £160, artistresidencelondon.co.uk
Casa Bonay, Barcelona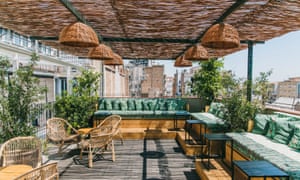 Hotel Casa Bonay, in Barcelona's modernist Dreta de l'Eixample district, is a boutique hotel with a decidedly international spirit, combining modern design with original elements. Barcelona creative Inés Miró-Sans returned to her hometown after working with the Ace Hotel group and brought with her a little New York spirit, collaborating with some of Spain's brightest creative talents. Much of the classical Catalan masonry – along with the mosaic-tiled floors and 19th-century features of the original iconic building – has been retained, giving the interiors a personality that is unmistakably Mediterranean but with a fresh urban twist.
• Double rooms from £80, >casabonay.com
Katamama, Seminyak, Bali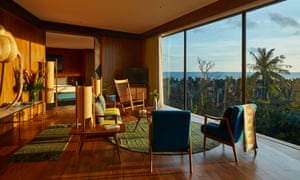 At this 58-suite boutique hotel in Seminyak, a beach resort at the southern end of Bali, the emphasis is on local craftsmanship. Each of the rust-coloured bricks in owner Andra Matin's bold architectural design were hand-pressed in a local village while the smooth teak furniture is custom-made, and the table runners, soft throws and batik cushions have all been hand-woven. Field trips inland to the studios that are saving these age-old arts from dying out are an appealing activity – as is sitting on chairs by Hans J Wegner, Arne Jacobsen and other classic Danish mid-century classics that furnish the hotel.
• Double rooms from £220, >katamama.com
Mama Shelter, Rio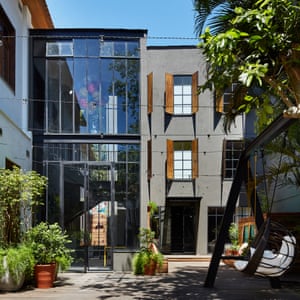 New design hotels often spring up off the beaten track – in this case, in Rio de Janeiro's hilltop cobbled neighbourhood of Santa Teresa. Once a residence for artists and musicians, the 55-room hotel opened in 2016, styled by Jalil Amor, the protégé of Philippe Starck, who designed the first Mama Shelter in the north-east of Paris. From Bordeaux to Belgrade, these budget design hotels are steeped in a strong sense of place so it's no surprise that Mama Shelter Rio is colourful and eclectic, mixing upcycled plastic art pieces, huge murals and vibrant contemporary furnishings.
• Doubles from £80, mamashelter.com
Treehotel, Sweden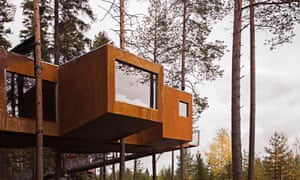 Kent Lindvall and his wife, Britta, have been luring design lovers to woodland north of the Arctic Circle since 2010. Inspired by The Tree Lover, a film by Jonas Selberg Augustsen about three city dwellers who built a treehouse together in the forest, the couple invited different architects to build their own vision – and now there are seven, all different shapes and sizes. The only stipulation for each was that it fits with the 100-year-old pines. Sustainability is key to their project so toilets are powered by electricity and they have also created their own water system. Each room is suspended four to six metres above ground – all with spectacular views of the Lule river.
• Doubles from £375, treehotel.se
Juliet Kinsman is founding editor of Mr & Mrs Smith and author of the Louis Vuitton City Guides. Recently she has also set up Bouteco, a social enterprise dedicated to celebrating boutique, eco hotels with a conscience
Source : https://www.theguardian.com/travel/2018/apr/15/10-of-the-best-design-hotels-in-the-world