It's no secret that neutral kitchens continue to reign, with classic white, basic beige, and 50 shades of gray leading the pack. People love them because they are timeless, look sleek, and can match most decor styles. But after so many years of frankly mind-numbing neutral, perhaps you're feeling a little blah.
Of course, you could replace your quietly hued appliances with ones in brighter colors—or maybe consider the retro approach and bring back all those 1970s and '80s primary shades.
But, boy, that can get expensive fast. And who knows when you'll get tired of your look.
Related Articles
The easiest—and by far most affordable—fix is to bring in bold tones on a smaller scale. How? Here are eight ways to add big color to your kitchen with small touches.
1. A pop of paint
>
Painting your whole kitchen is a big investment, both in terms of time and money. Instead, consider a new coat only on your island, your lower kitchen cabinets, or a buffet table.
"A painted buffet table in a bright color is a fun addition to an all-white or neutral kitchen, especially if you use spray paint," offers
Matt Michaels, an expert from Lowe's.
2. Tea towels and lamps
You might be surprised by how even the smallest touches can make a big impact.
"A set of new dish towels is one of the easiest and cheapest ways to pump some color into an otherwise monotone room," notes
Carole Marcotte of Form & Function, in Raleigh, NC.
Or consider adding a small lamp in a bright hue on the kitchen counter—just make sure it's about 18 inches high if you want it to fit under the upper cabinet.
3. Fresh flowers or fruit
>
Photo by Jacob Snavely Photography
The kitchen is an ideal spot for a pitcher of fresh flowers because you spend so much of your life in this room, explains
Justin Riordan of Spade and Archer Design Agency.
"And when they die in a week, you can pick a new color," he adds.
Or choose simple greenery to perk up a neutral kitchen. Michaels opts for air plants or succulents to give your space a lush, natural feel (no color clashing here).
Want something that doesn't just die (and is tasty, too)?
"A display of fruits, veggies, and even nuts can bring in fun shades—and the best part is you'll actually use up this color pop," Riordan says.
4. Chairs and window treatments
>
Depending on the fabric you select, upholstered bar stools and kitchen chair cushions can add surprising texture and color to an otherwise dull kitchen.
You can also work bright shades into window treatments, but don't forget the grime factor: Traditional draperies can get dirty in the kitchen, so opt for valances or board-mounted curtains over those that fall to the floor, suggests
Liz Toombs of PDR Interiors.
Or avoid fabric completely in the cooking area and inject a pop of color into an adjacent eating nook.
"Make a banquette pad or seat covers from laminated fabric for easy maintenance—it's color that can be wiped off with a dishcloth," Toombs says.
5. Dishes and glassware
>
Let's be honest—open shelves are meant to be filled with a colorful riot of pieces, including chunky lime tumblers, polka-dotted cereal bowls, or colored stemware.
(If you don't have open shelves, you can always install some floating shelves on the cheap, or display your vibrant dishware on your countertops. Don't have funky dishes and glasses? Swing by the dollar store to score a deal.)
This idea isn't just for open shelving; if you have glass-front cabinets, you can show off some color here, too—but scale back a bit.
"It's fun to see a hint of color peeking out from glass-front cabinets, but in each case, limit the look to a few pretty pieces so you won't have to keep it super organized," Marcotte suggests.
And make sure that your arrangement is cohesive and coordinated—not chaotic.
"For example, if your dishes have pink and green flowers, then pairing with green glasses is appropriate," Toombs says. "But if yours have a busy pattern with red, brown, and yellow, a simple clear glass might work best."
6. Bright rugs
An oversize rug is your color ticket in a mostly neutral kitchen, says
Sara Chiarilli of Artful Conceptions, in Tampa, FL.
"If you're into a bolder look, look to traditional patterns in unusual colors, overdyes, or a patchwork pattern," she says.
7. Small appliances
It turns out, that infusion of color you're seeking might just be hiding in the pantry. Pull out that coral Dutch oven, the cobalt blue teapot, or your Gen Z yellow standing mixer, and display it on the counter.
"Choose an accent color, and then repeat it in a few of these small appliances," Toombs recommends.
(Pro tip: Aqua, because of its retro vibe, is trending right now, and red is a longtime favorite for those looking for extra-bold touches.)
For a temporary color blast, Riordan likes appliance wraps or skins: "How fun would it be to have a pink appliance one year and a yellow one the next?"
8. Knobs and pulls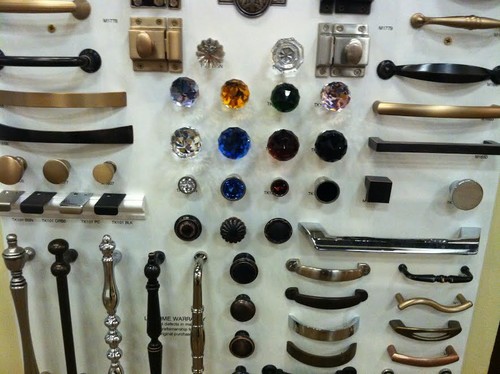 By Joni Hilton 
"A fun way to add some subtle color throughout most of your kitchen space is by changing out your drawer pulls and knobs to ones in a single bright color," reports 
Marty Basher of Modular Closets.
Hit up your local hardware store—or even a thrift store—for crystal, ceramic, or wooden knobs for next to nothing (a drawer pull, for instance, might start at just $3 or less). You can even go wild with hardware shaped like forks and spoons. For hard-to-find designs, search etsy.
Swap them out in an hour's time, and your kitchen might just feel brand-new.
Source : https://www.realtor.com/advice/home-improvement/add-color-kitchen-design/