Meanwhile
Bang & Olufsen, a more common fixture at Salone, introduced a new portable BeoPlay P6 speaker designed by Cecile Manz; elsewhere,
Sony took a more mercurial take on tech, with "Hidden Senses," forgoing a product display for an interactive installation of objects that responded to touch, movement, and sound.
The takeaway? Smart tech isn't just for CES—and with its growing presence at Salone, it's now part of design in an undeniable and increasingly stylish way.
Reality, Deconstructed
If living in a Trump presidency has taught us anything, it's that nothing is ever as it seems. It was easy to see the past year of political tumult reflected in the reality-bending, deconstructed works that took center stage in Milan.
While clothing doesn't typically play a starring role in the week's festivities–unless you count people-watching the stylish attendees–
COS, the sophisticated minimalist sister brand in H&M's portfolio, has taken measured steps to more closely align itself with the art and design world. In past years, the company has commissioned large-scale installations by well-known talents like Studio Swine and Sou Fujimoto that have proven wildly popular (Asad Syrkett described the brand's popular presentations as "one part architecture, one part science experiment, one part social media thirst trap"). This year, COS and 
Philip K. Smith created "Open Sky," a giant courtyard sculpture made of mirrored panels that fan outward to create a prismatic reflection of the sky. Pure selfie catnip.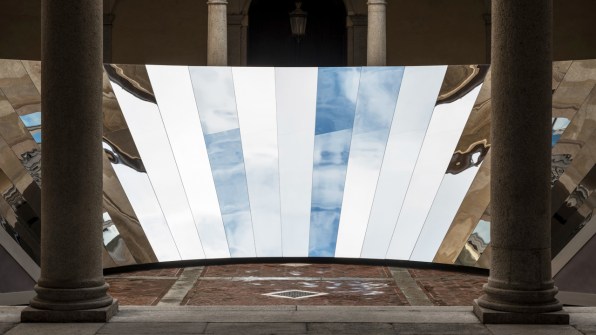 For another large-scale installation with the materials brand
Caesarstone, New York studio Snarkitecture reimagined the defining elements of the kitchen with Altered States, a theatrical exploration of water as an elemental wonder and our main cooking ingredient.
Working with luggage brand
Rimowa, emerging designer
Dozie Kanu, whose early fans count rapper Travis Scott and fashion designer Virgil Abloh, dismantled suitcases to create a series of conceptual furniture designs out of their parts. Called Stretched, the installation reads like an expanded take on "Knolling," that pleasing exercise of organizing things neatly. Along the same lines, 
Plusdesign gallery exhibited a show called U-Joints all about–you guessed it–joint hardware, an industrial designer's dream.
Source : https://www.fastcodesign.com/90168800/the-furniture-industry-has-an-identity-crisis